Tree Party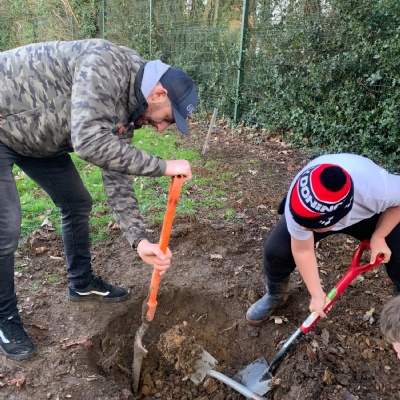 Marvellous March and the Tree Party
Despite the cold and occasional hail storm, Husbands Bosworth CE Primary School held its first ever Tree Party on Tuesday 14th March as part of its 'farm school' activities. The afternoon saw grandparents and parents joining their children to plant the school's first ever orchard; comprising of apple trees, along with 30 wild cherry, rowan and silver birch whips, donated by the Woodland Trust.
Speaking of the event, Headteacher, Alan Eathorne said, "The school has long had a desire to create a small orchard to help further our commitment to the environment, as well as support our farming linked learning. Thanks to a donation from Leicestershire County Council's Arboreal team, we are well on our way now. On the day each class planted an old Leicestershire variety apple tree, with one also planted for our local preschool, Dairy Farm Day Nursery, before adding in the wild cherry, rowan and silver birch whips.
"As the trees grow, our hope is that the children will deepen their knowledge of the seasons and how fruit is produced, learn about our county's fruit producing heritage, and when the trees are more established, we'll demonstrate how to press apples to produce delicious juice."
The Tree Party also saw the families sow over 100 sunflower seeds, with the children in each class signing their tree stake for prosperity. Husbands Bosworth CE Primary School is the first in the region to become known as a 'farm school', whereby it weaves farming links into its lessons and activities, reflecting village's heritage and links to local farming families.